Apple CEO Tim Cook visited the Palo Alto Apple Store in Palo Alto, California this morning as it opened its doors to let customers get their first look at the new Apple Watch. Cook was spotted chatting with potential customers and having a conversation with The Loop's Jim Dalrymple and iMore's Rene Ritchie.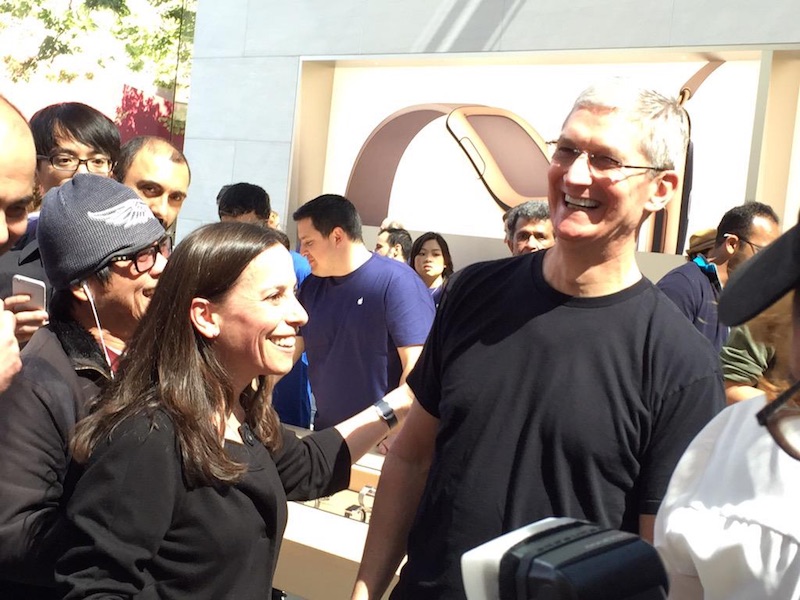 Image courtesy of CNET's Shara Tibken
Several members of the media were on hand at the Palo Alto Store opening, as it's one of the flagship Bay Area stores that often sees visits from Apple executives. Tim Cook spoke to CNBC, telling the news site that pre-orders for the Apple Watch have been "great."
The Apple Watch became available for pre-order at 12:01 a.m. Pacific Time earlier today, and initial pre-orders sold out very quickly. In less than an hour, shipping estimates for many Apple Watch models had slipped to 4 to 6 weeks or beyond, and within six hours, there were no longer any models available for an estimated delivery date of April 24 to May 8, the shipping estimate the earliest orderers received. Many customers who order today and beyond won't be able to obtain devices until May or June, and later in some cases.
As of today, Apple Stores around the world are allowing customers to try on the Apple Watch to get a feel for the device ahead of its official launch.

Source: MacRumors