Last Friday, third-party warranty firm SquareTrade released its findings of high-pressure testing on the Samsung Galaxy S6 Edge and HTC One M9, showcasing some pretty dramatic results once the phones hit certain pressure thresholds. Today, Samsung has responded with testing and results of its own, asking SquareTrade to conduct a new test under the guidance of its official findings.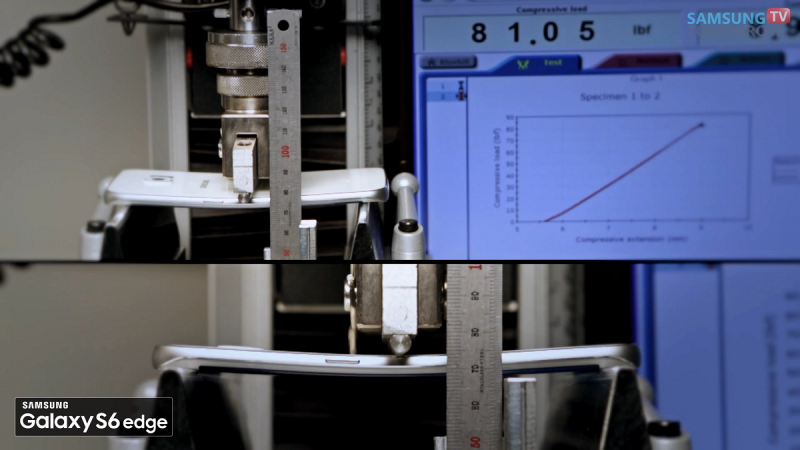 Samsung points out that the 110 lbs of force exerted on the Galaxy S6 Edge to result in the cracked-glass warning is far from a normally occurring real-world circumstance, with the average force generated "when a person presses the back pocket" being around 66 lbs of force.
The company tested the Galaxy S6 and S6 Edge and found the two phones weren't bendable even up to 79 lbs of force, "which is equivalent to putting pressure to snap a bundle of five pencils at once."
Samsung continued to point out that SquareTrade's video failed to showcase the higher strength of the Galaxy S6 Edge's backside, which in normal circumstances would face equal amount of pressure as the front. With these facts in mind, the company decided to make a force-test video of its own to showcase its results.
Secondly, even though both front and back sides are exposed under the same level of pressure in normal circumstances, this test does not show the strength of the back side. Some smartphones have different durability in each the front and back sides respectively. SquareTrade has only tested the front side, which may mislead consumers about the entire durability of smartphones.

All our devices are put rigorous high-quality validation tests before they are delivered to consumers. These tests include various conditions, such as dropping, bending, and breakage. And we are confident that all our smartphones are not bendable under daily usage.
Stating these reasons, Samsung says it will deliver its statement to SquareTrade and ask the firm to perform the stress test once again, mainly targeting both the front and back sides of the phone, and publish its new findings to the public. Apple faced a similar damage control situation last year following the first wave of "Bendgate", going so far as to allow reporters into its testing labs to showcase various iPhone 6 Plus durability tests to the media outlets in attendance.

Source: MacRumors