Finnish game developer Rovio today confirmed that its 2009 game Angry Birds is getting a direct sequel, Angry Birds 2, and fans will be able to play it starting July 30. The company released some promo artwork for the game that promises fans of the series a "bigger, badder, birdier" game than the original.
Far from the second game in the series, counting spin-offs like Bad Piggies and Angry Birds Stella, there have been a total of fifteen games using the Angry Birds license in some way. Most were thematic spins on the original game's bird-launching mechanics like Angry Birds Star Wars, but over the years Rovio expanded by creating Angry Birds GO! and Angry Birds Epic, which introduced players to kart racing and turn-based strategy mechanics, respectively.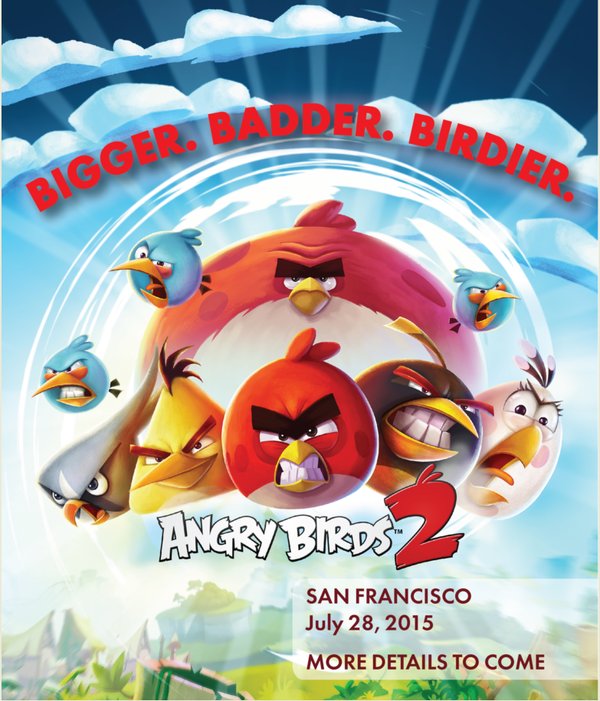 Back in December 2009, when we were just a small games studio, we released our 52nd game featuring colorful birds, green pigs, a slingshot and a super catchy theme tune. Fast forward to 2015 and that game, Angry Birds, has taken the world by storm.

With 3 billion game downloads, millions of fans across the globe, multiple mashups and spin-offs, collaborations with A-list celebrities and much more, we're really proud that Angry Birds is the mother of all mobile game apps. And now we're proud to announce the mother of all sequels – Angry Birds 2!
The Angry Birds developer saw its first major profit decline in 2014, thanks to big new players in the mobile game landscape like Candy Crush, and a general sense of fatigue from gamers regarding the franchise. Nevertheless, Rovio is backing its flagship series more than ever with the announcement of a proper sequel and the planned release of an animated feature-length Angry Birds film next summer. The company promises that more details are to come on July 28, a few days before the game's official launch.

Source: MacRumors