iPhone camera accessory maker Olloclip has been producing lenses for the iPhone 6 since shortly after the phone debuted last year, but the company recently improved its product lineup with the addition new iPhone 6 and 6 Plus cases and a new Active Lens, which combines an ultra wide-angle lens with a telephoto lens.
Olloclip's iPhone photography accessories are some of the most popular on the market because of their quality and ease of use, and the company's two newest products are a welcome addition to the product lineup. The iPhone 6 Ollocase works perfectly with Olloclip lenses and the Active Lens is one of Olloclip's most versatile lenses, useful for landscapes, selfies, portraits, and shots where you need to get just a bit closer to your subject.
Ollocase
Olloclip's lenses don't work with iPhone cases because of the way the lenses fit over the top of the iPhone 6 or 6 Plus, leading Olloclip to create the Ollocase, a specialized case that does accommodate its lineup of camera lenses.
Olloclip first ventured into case making with the iPhone 5s, producing a two-piece plastic case that was bulky and overly complicated, but their new case for the iPhone 6 and 6 Plus is much, much improved, and it's clear that a lot of thought went into the design.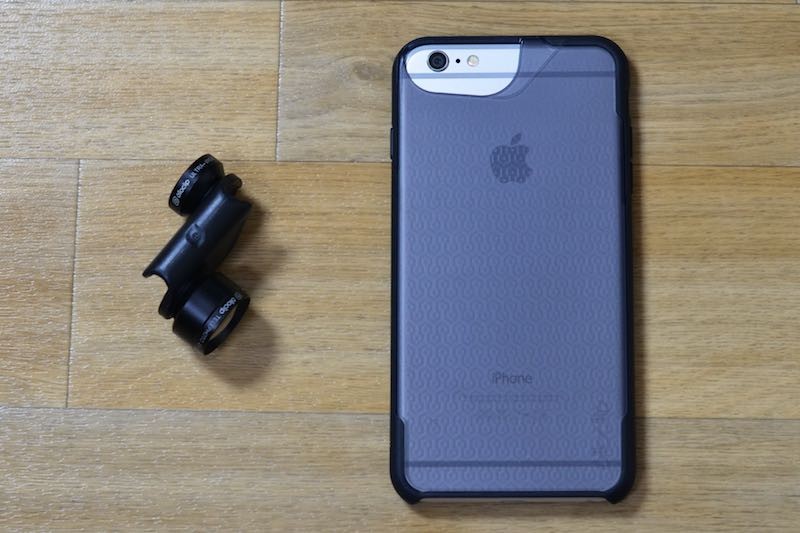 It's constructed from a thin polycarbonate shell that adds little bulk to the iPhone, and around the sides, it has a rubber bumper. The rubber bumper protects from minor drops and extends a bit past the display, keeping it from touching a table or desk when it's face down. As a bonus, the flexibility also makes it easy to put on and take off if you like to swap cases often.

The volume buttons and the power button are protected, and there is a large cutout at the back where the camera is located, made to accommodate the lenses. For this reason, it offers no protection to the camera when a lens is not in place, which may be a downside for some potential buyers. The bottom of the phone is also left unprotected, as is common in many iPhone cases, for charging and using the headphone port.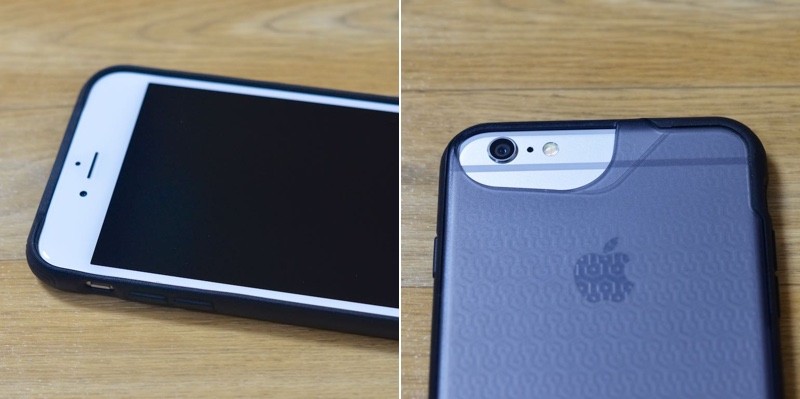 Overall, the look of the case is quite pleasing and it doesn't stand out from your average iPhone case. It's available in two colors, a translucent gray and a matte black, and it has a pattern engraved on the inside to add visual appeal. I have an iPhone 6 Plus, so the version in the photos is for Apple's larger iPhone. The iPhone 6 cases look identical.
Those of you who own Olloclip's lenses know that they ship with an insert to adjust the fit to the iPhone 6 or the iPhone 6 Plus, but with the case, those inserts aren't needed. The Olloclip dual lenses fit right over the camera cutout in the case, snapping on in a second. I found putting on and removing the lenses to be faster with the case than without, because I know exactly where to position the lens accessory for the right fit.
On the iPhone 6, a lens placed over the Ollocase will automatically line up with both the front-facing camera and the rear-facing camera, but with the iPhone 6 Plus, you'll need to pull the lens slightly forward or backwards when switching between two cameras to adjust the position. Sans case, the iPhone 6 Plus versions of the Olloclip lenses already work this way, so there's no change here for iPhone 6 Plus users.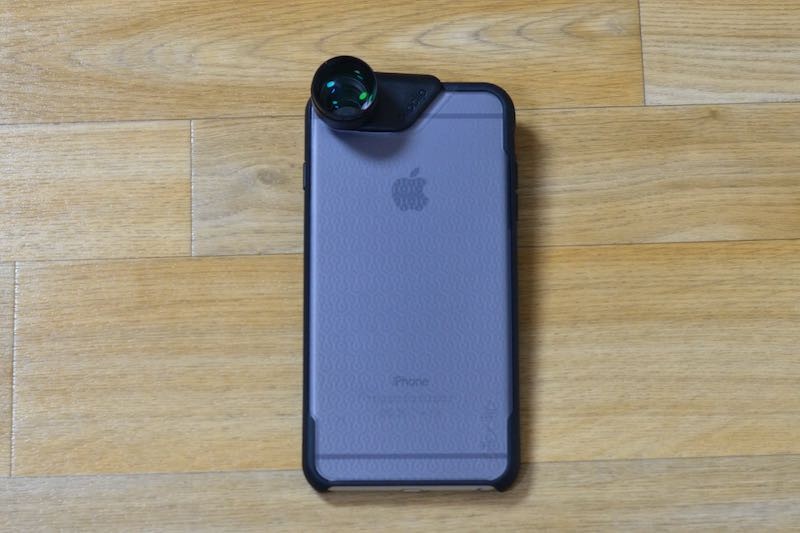 As someone who regularly uses Olloclip's lenses, I appreciate the case. It looks decent, it doesn't add a lot of bulk, it keeps my iPhone protected, and it alleviates the need to take off my case whenever I want to take a photo. Not needing to remove my case eliminates a lot of the hassle of using Olloclip products. There's still one caveat — it doesn't change the way screen protectors on the iPhone work with Olloclip lenses. The Olloclip lenses fit on too tightly, causing most screen protectors to peel up.
Active Lens
The Active Lens is Olloclip's other new product, having just debuted recently along with the case. It combines an ultra wide-angle lens with a 2x telephoto lens, a pairing that I liked a lot in my testing. If you're familiar with Olloclip's products, you know that there's already a Telephoto + Wide-Angle option available, and the difference here is that ultra wide-angle lens.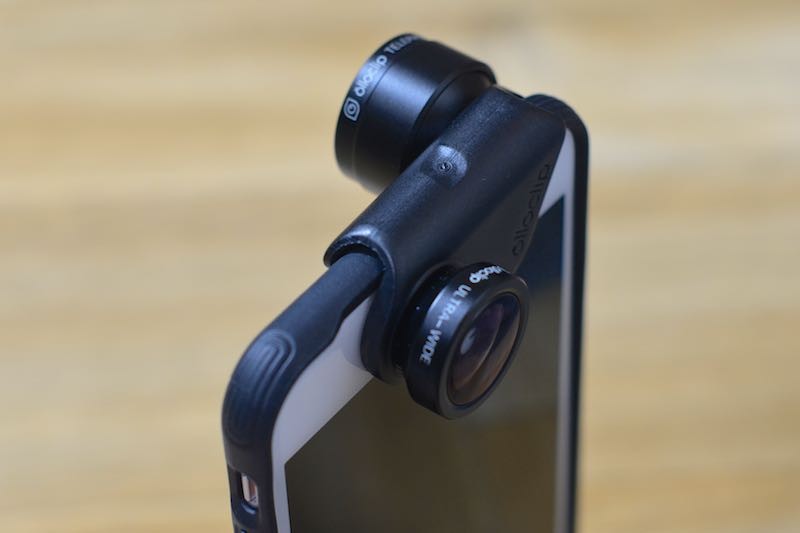 The standard Wide-Angle Lens from Olloclip has a field of view that doubles the iPhone 6's standard field of view, coming in at about 120—130 degrees. The ultra wide-angle lens in the Active Lens is about 155 degrees, putting it between a wide-angle and a fisheye (180 degrees). It's pretty close to the field of view you can expect to get with a GoPro or a similar action cam, with a nice wide field of view without the extreme distortion you get with a fisheye lens.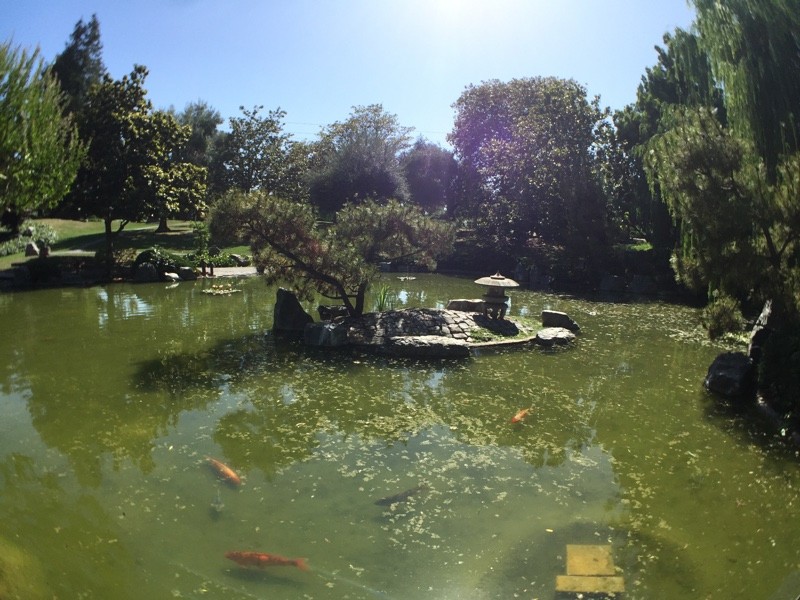 Landscape wide-angle shot
I'm not going to talk too much about the design of the Olloclip lenses since I've reviewed them several times before, but I'll give a quick recap. These are dual lenses that can work with the front-facing camera or the rear-facing camera. Olloclip's lens accessories are all made of a thick plastic and are two sided, with each side incorporating a different lens. Lenses are high-quality, made of aluminum and glass.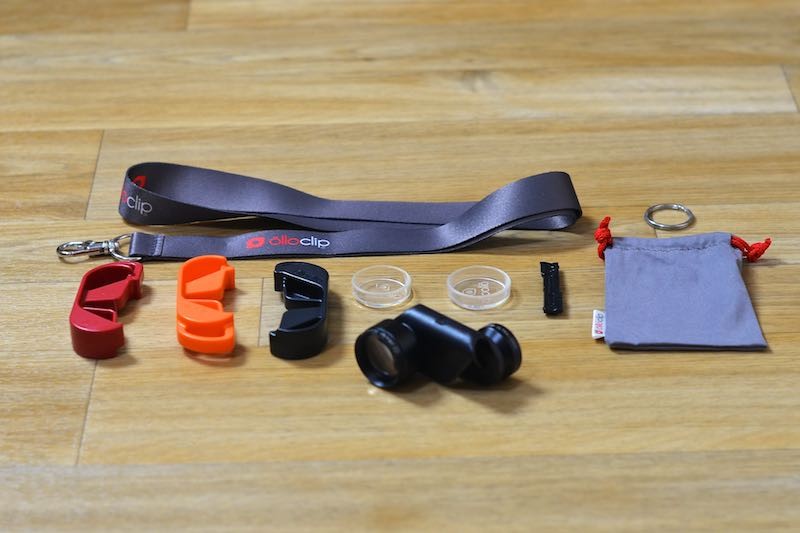 On the Active Lens, there's the aforementioned 155 degree wide-angle lens on one side and a 2x telephoto lens on the other side. It's a solid combination that nicely complements the built-in camera. On one side, you've got a lens that's ideal for capturing group shots and landscapes, while on the other end, you've got a lens that's good for portraits and other close-up shots.
There's a lot of versatility between the wide-angle, the telephoto, and the built-in iPhone camera, and there's no space wasted on lenses that are only situationally useful like macro or CPL.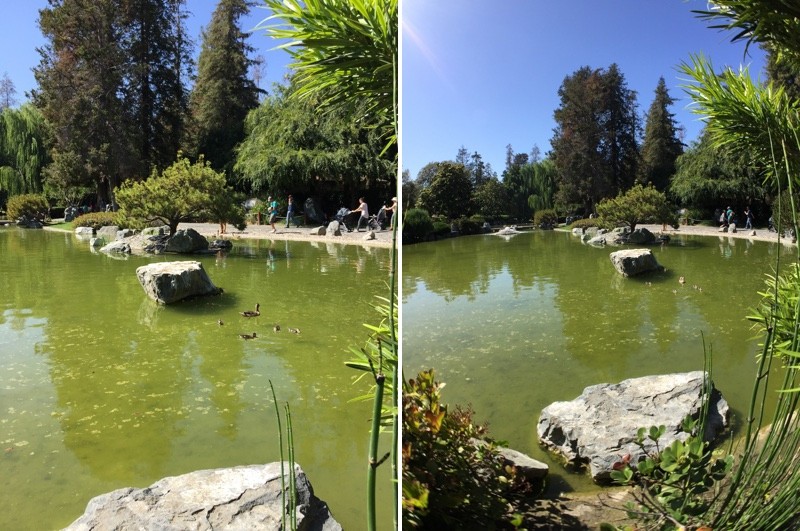 Standard iPhone image on left, wide-angle image on right
The ultra wide-angle lens is going to let you get a lot more in the picture, whether it be a landscape or a group selfie using the front-facing camera. This is a lens that works with both the rear and front-facing cameras — with the telephoto, there's little reason to use it to take a selfie.
Since this is an ultra-wide angle, there is definite distortion at the edges of an image that's almost like a subtle fisheye effect. This is very noticeable when there are straight lines in an image, or indoors, but it's less visible with outdoor action shots and landscapes. The distortion is less pronounced in images taken in portrait mode or with a square crop.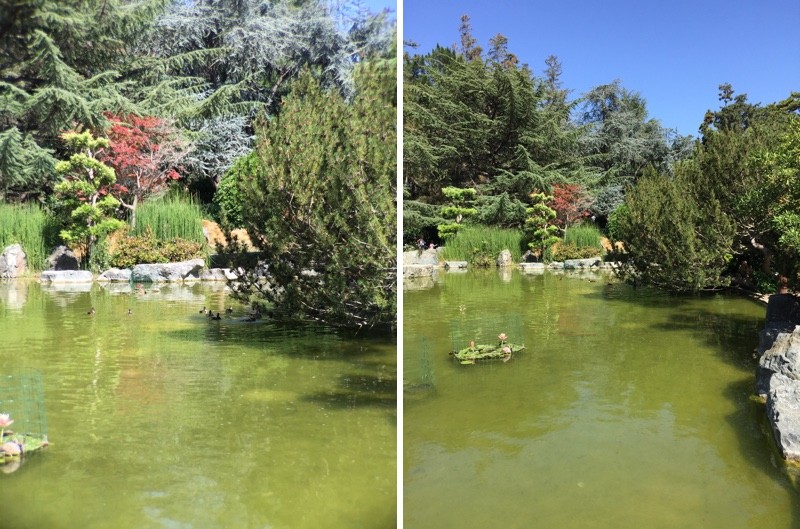 Standard iPhone image on left, wide-angle image on right
Some people are going to like the images with the mild fisheye effect, while some will not. I like the slight distortion, and it feels like an acceptable tradeoff for the ability to capture more in a shot. If I want a standard picture of a landscape, my iPhone can do that with no lens. If I want something a little more visually appealing with a different flare, that's what the ultra-wide angle is for. It's also nice for panoramas and front-facing selfie shots.
The telephoto lens is a 2x optical zoom, which lets you get a little bit closer to whatever it is you're photographing. 2x zoom is useful in a lot of situations because the iPhone's focal length is so short. For example, I used it at a garden to get a closer shot of some baby ducks. It's also useful for portraits, and it's superior to the iPhone's built-in digital zooming capabilities because you're not losing picture quality. In fact, with both the telephoto and the wide-angle lenses, the quality of the iPhone's camera wasn't degraded — shots were clear both with and without the lenses.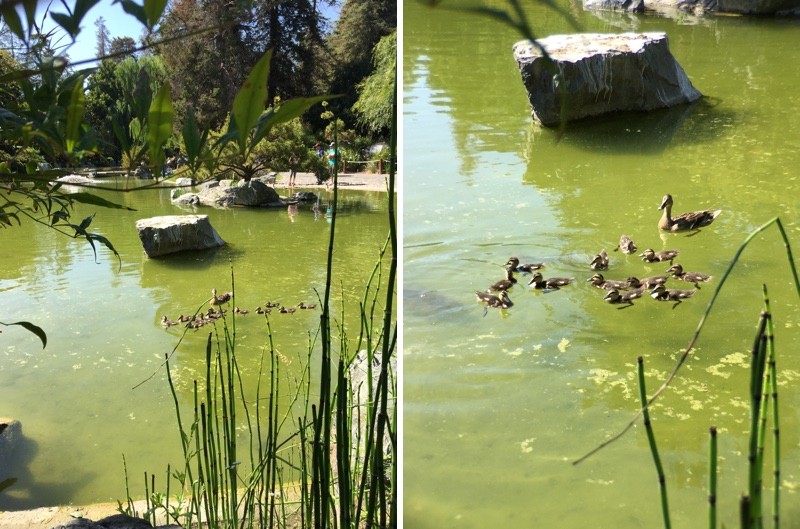 Standard iPhone image on left, with zoom lens on right
One caveat: with the telephoto lens, it's more difficult for the iPhone to focus, especially on things that are close to the camera. You may need to tap on the screen a few extra times to get a crisp picture. You're also not going to want to bother using the telephoto with the front-facing camera. If you want a closer selfie, just move your iPhone closer to your face.
Bottom Line
If you use Olloclip's lenses and miss having a case on your iPhone, the Ollocase is a must purchase. It's reasonably priced at $29.99, it's relatively thin, it offers a good amount of protection, and it works seamlessly with all of the company's lenses for the iPhone 6 and 6 Plus. Olloclip did a good job with the Ollocase.
Not functioning with a case has always been the number one negative to Olloclip's products, so it's nice to have an option. Access to a functional case may persuade some people who have held off buying an Olloclip lens to try one out, and I do recommend bundling any lens purchase with a case if you're someone who doesn't like the risk of a naked iPhone.
As for the Active Lens, it's a solid combination that works really well with the built-in iPhone camera. The telephoto and ultra wide-angle lenses are versatile and can be used in almost any situation to help you get the ideal shot. For those of you who like the idea of a wide-angle and a telephoto to expand the range of the iPhone camera, the Active Lens is a solid choice. In a lot of ways, it's superior to Olloclip's other lens offerings, which have features like macro that can't be used as often.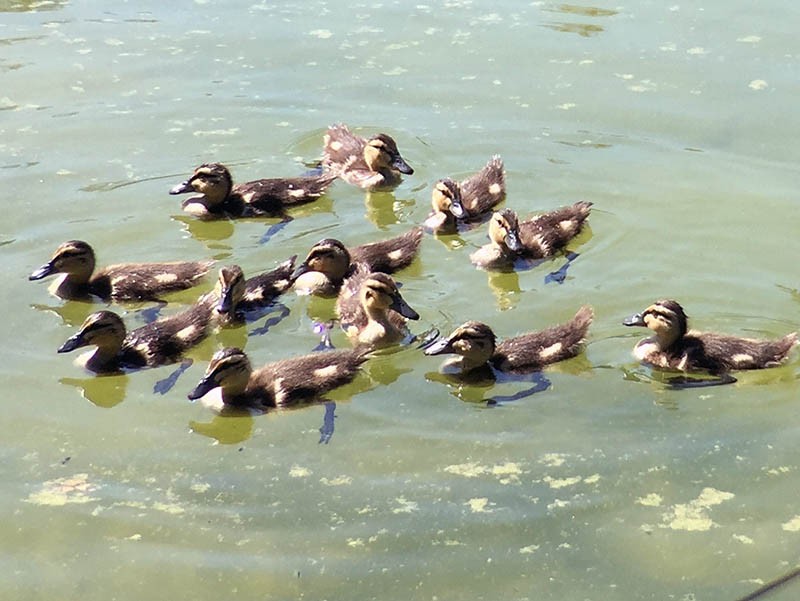 100% crop, image taken with 2x zoom lens
For those of you who don't like the look of the ultra wide-angle lens, check out the standard Wide-Angle + Telephoto. It's quite similar, but the field of view is narrower so there's not quite as much distortion.
How to Buy
The Ollocase for the iPhone 6 and 6 Plus is priced at $29.99 and the Active Lens is priced at $99.99. Both products are available for purchase from the Olloclip website.
Note: MacRumors received no compensation for this review.

Source: MacRumors