Readdle, the company behind popular apps like Scanner Pro and Documents 5, today introduced a new email client for the iPhone and the Apple Watch, called Spark. Spark is designed to make it easy for users to sort through, organize, and reply to email messages by categorizing them by sender and importance.
In Spark's Smart Inbox, email messages are arranged so that personal emails sent by actual people are shown ahead of those sent by automated services, making it easier to get to important messages first. A full list of unsorted emails can be accessed by tapping a small toggle at the top of the screen or by choosing the regular inbox option from Spark's sidebar, which also houses pinned emails, sent emails, drafts, trash, archived emails, and attachments.
Pinned emails are a useful Spark feature that lets an important message be pinned to the top of the Smart Inbox so it remains in view even after it's read. In Gmail, pinning is the same as starring a message. Emails can be pinned with a simple swipe to the left, while a further left swipe deletes an email. A right swipe also has two functions: marking as unread or archiving.
Spark can be heavily personalized to meet each individual's email needs. Swipes, mentioned above, can be customized to perform different functions, and there's also a built-in widget feature. Widgets are accessible via a button at the bottom of the screen and add additional features to Spark, like a Calendar, a folder for pinned emails, or a folder for snoozed emails. In the future, widgets will be able to do things like group Amazon purchase emails or offer weather information.
Spark uses a natural language search feature, so users can search for specific email messages with queries like "from John with PDF attachment," and it integrates with several cloud services for saving and sending attachments. Spark also includes a few other useful features that speed up email management like smart notifications, fast signatures, a list of attachments you've received, and the ability to quickly save a message as a PDF.
One of Spark's best features, however, may be its included Apple Watch app. Spark delivers Apple Watch notifications whenever an important email is received (it's customizable to send a notification with every email), and it's fairly accurate when determining what's important. Tapping one of these notifications opens up the Spark app on the Apple Watch, with tools to snooze, archive, delete or reply to an email.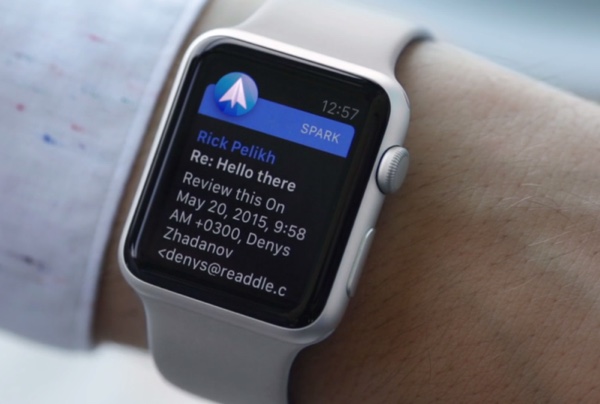 The app supports quick pre-written replies like "Thanks," and it lets users reply to emails via dictation, which is handy for managing emails from the wrist. There's also a useful main view that displays emails organized into categories based on who they were sent by or whether they were pinned.
According to Readdle, Spark is the most ambitious product they've worked on, and their goal is to make it better than any other email client available. In its current iteration, Spark not entirely free from bugs, but as it can be downloaded at no cost, it's worth checking out to see if it fits into your workflow.
Spark will be free on the App Store and should be rolling out soon.

Source: MacRumors