Product Hunt, the popular site that specializes in surfacing new products, is today launching an updated iOS app that adds several features to the existing Product Hunt app for iOS, including access to community-curated collections, the ability to follow other users, improved search capabilities for finding people, collections, and products, and a revamped look that makes it easier to read about new products.
Since its initial introduction in August of 2014, the Product Hunt app has received only minor updates, and was largely created as a mobile version of the website, where users could view a list of products and upvote or comment. Today's update will be a welcome change for Product Hunt users, as it will let them follow other users, see what friends are posting, and explore curated collections.
Curated collections let users find collections of products related to a central theme. For example, some of the available topics include "Great apps for travels," "Rad GIF Apps," and "Prank Products." There are hundreds of different product collections available, which can be browsed through using the new "Collections" tab or searched for using the built-in search.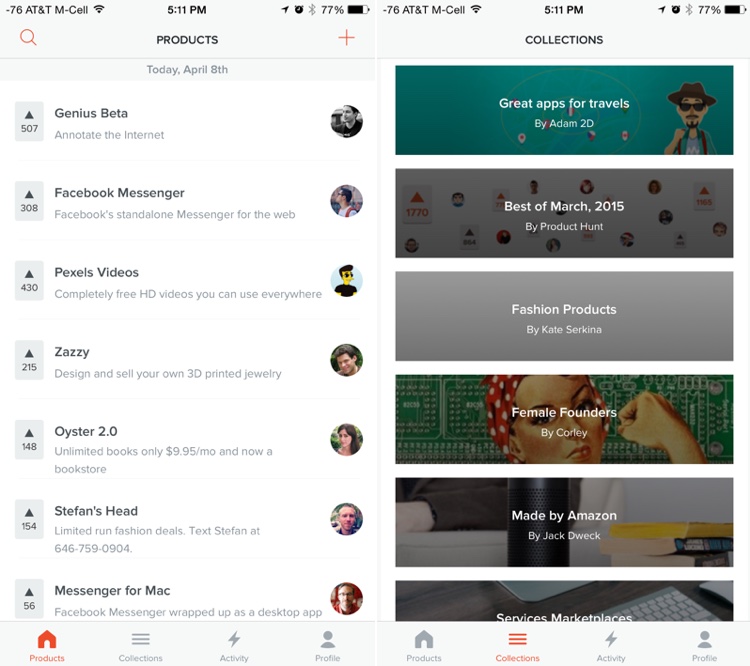 It's also possible for users to create new Collections directly within the iOS app, which is a useful way to bookmark content for later viewing or to create lists of favorite products. On the detail page of any product, there's a button that will add it to a Collection. Product Hunt received a lot of feedback from iOS users asking for a way to bookmark products on the iPhone to view later, a request Collections address.
Searching has been expanded in the new version of the Product Hunt app, so users can tap the search bar at the top of the "Products" page to locate specific products, collections, or people in the Product Hunt community. The ability to search for Collections lets iOS users find a wealth of new products, all of which have been aggregated by other Product Hunt users.
When viewing a product's detail page, there's a new "Related" tab next to the "Comments" tab that will display similar products. For example, a product listing for a site that offers 3D printed jewelry lists other 3D printed jewelry sites available under the Related tab.
Product Hunt CEO Ryan Hoover hopes that the newly updated iOS app will make exploring Product Hunt more of a social experience, bringing it into conversations away from the computer. Users can add favorite products to a Collection to show to friends, or pull out their iPhones and search for products when having a discussion about something discovered within the app.
The new version of Product Hunt for iOS also makes it possible to download other iOS apps from within the Product Hunt app and it includes several performance improvements.
Product Hunt can be downloaded from the App Store for free.

Source: MacRumors