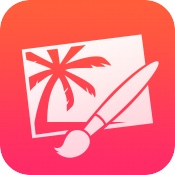 Pixelmator for the iPhone and iPad was today updated to version 2.0.2, adding the first major new features since the app expanded to the iPhone in May. The 2.0.2 update brings Dynamic Touch, a new feature for all of the app's Retouch tools.
With Dynamic Touch, users can adjust the stroke size of Retouch tools without needing to open up the brush settings menu for faster image corrections. Dynamic Touch detects the surface area of the finger that's in contact with the screen and changes the brush size accordingly. If you paint with just the tip of your finger, the brush will be thinner, while painting with a full finger on the screen will make the brush thicker.
Today's update brings the Pixelmator for Mac repair tool algorithm to iOS, which makes removing unwanted images from a photograph or image quicker and more precise. According to the app's release notes, the repair tool is up to five times faster.
"There are numerous ways to repair any area of an image, so we did a lot of testing on a Mac Pro to optimize the algorithm of our Repair tool," said Simonas Bastys, the lead developer of the Pixelmator Team. "We analyzed millions of possible ways to repair areas of various complexity, and then compared the speed and quality ratio of each final result. After six months of testing, we derived a repairing algorithm that gives stunning quality with incredible speed every single time. Pixelmator for iOS now takes advantage of the same algorithm."
In addition to the above mentioned features, Pixelmator is also gaining an improved Pixelmator Photo Editing extension for editing directly within Apple's Photos app, and the Pixelmator team is also introducing both an iOS Guide Book and a selection of tutorials that will help iPhone users get the most out of the photo editing app.
Pixelmator for iOS can be downloaded from the App Store for $4.99. [Direct Link]

Source: MacRumors