T-Mobile today announced an addition to its Un-carrier line of customer perks with a new family plan aimed at providing each member of the family with 10GB of 4G LTE data per person. The base plan includes the first two family members with 10GB each at $100, and additional members coming in at $20 per person, with every line getting the usual unlimited data, talk, text, and all the normal Un-carrier perks.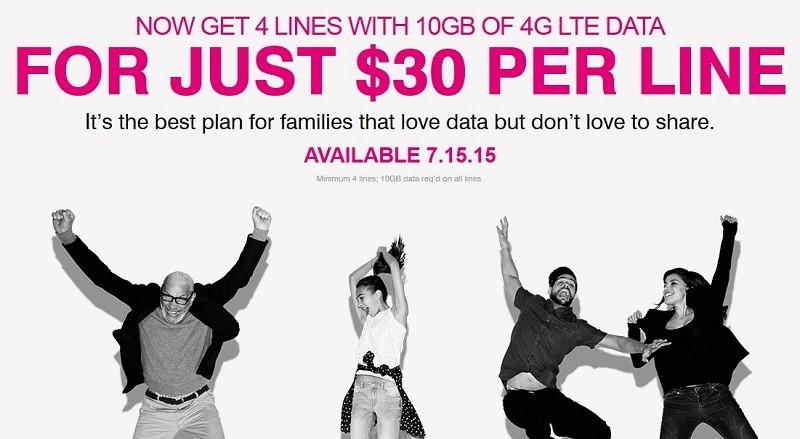 Users who are interested in signing up or switching before Labor Day can get the fourth member's line free if they sign up before the holiday, on September 7. So a four-person family can each get 10GB of data for $120 — or $30 a person — while the promotion runs.
T-Mobile compares its plan to something similar offered by Verizon, which sees its base plan requiring families to share 10GB of data each month at a price of $140. To get something more along the lines of T-Mobile's new plan, users would have to upgrade to about $360 per month on Verizon's model.
"It's no surprise Verizon's spent what looks to be over $100 million in just two months promoting an $80 data plan with 10GB everyone has to share. The catch is, it's not actually an $80 plan. You can't actually use any of that data until you pay additional 'line access' fees for data you've already bought," said John Legere, president and CEO of T-Mobile.

"So, when they say $80, they actually charge a family of four at least $140. And that's to share 10GB. Leave it to Verizon to push a plan that gives you a pile of data you can't use unless you fork over more in hidden fees."


The new family plan will launch alongside the recent announcement that customers taking advantage of the Un-carrier's "Simple Choice" plans can send and receive unlimited phone calls, text messages and use 4G LTE data in Canada and Mexico at no additional cost. T-Mobile notes that every family under the Simple Choice model can choose to switch to the Un-carrier's new family plan beginning tomorrow, July 15.

Source: MacRumors