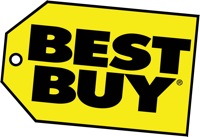 On an Apple Pay update shared during today's second quarter earnings call, Apple CEO Tim Cook announced that Best Buy will begin accepting Apple Pay in its iOS app today, with full Apple Pay support coming to Best Buy stores later in 2015.
Best Buy's move to adopt Apple Pay is notable because Best Buy was previously a member of MCX, the Apple Pay competitor that's pushing the CurrentC payments service. CurrentC, which uses barcodes rather than NFC for payments, remains in testing and will launch later this year.
Best Buy follows MCX member Meijer in offering Apple Pay to customers, and while both companies signed exclusivity agreements, MCX CEO Dekkers Davidson has said that there are no penalties or fines for leaving the MCX program. MCX members are not able to accept both CurrentC and Apple Pay at the same time, so it remains unclear if Best Buy remains a part of MCX.
Apple also announced that the number of locations accepting Apple Pay has now tripled since the service first launched in October of 2014.

Source: MacRumors