Today's iOS 8.3 update expands iOS 8's WiFi calling feature to two new carriers: Sprint in the United States and EE in the United Kingdom.
WiFi calling is a feature that was first introduced in iOS 8, letting users make phone calls using WiFi instead of a cellular network when connected to a WiFi network. T-Mobile has thus far been one of the only carriers to support Wi-Fi calling in the United States, until today.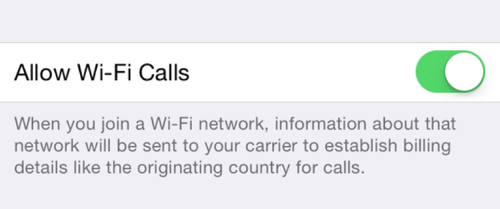 Following the iOS 8.3 update, Sprint users can toggle on Wi-Fi calling in the "Phone" section of the Settings app, which will let them make calls over Wi-Fi when a Wi-Fi network is available. Wi-Fi calling can be useful when cellular signal is low, and calls also have improved sound over Wi-Fi.
According to Sprint's website, users will need to install the iOS 8.3 update and download Carrier Version 19.1. Sprint says the carrier update can be triggered by going to Settings –> General –> About after installing iOS 8.3, but the company's announcement suggests it may take a few days to roll out to everyone.
Enabling Wi-Fi calling is a similar process for EE subscribers in the United Kingdom. According to Engadget, EE users will need to update to iOS 8.3 and then enable WiFi calling in the Settings app, after which the feature will be activated in a few hours. EE's limiting the number of iPhones able to register for WiFi calling to 100,000 per day, so there may be a waiting period for some users.
WiFi calling is available for iPhone 5c, 5s, 6, and 6 Plus users with Sprint and EE service.

Source: MacRumors