Earlier this year, news leaked that Google was working on an Android Wear app for the iOS App Store, and it appears that the company's progress on engineering Android Wear devices to work with iPhones is nearing completion.
According to a source that spoke to The Verge, Android Wear on the iPhone works similarly to the Apple Watch, connecting through a companion app and providing functions like Notifications. Google is said to be "close to finishing" the final technical details behind the project.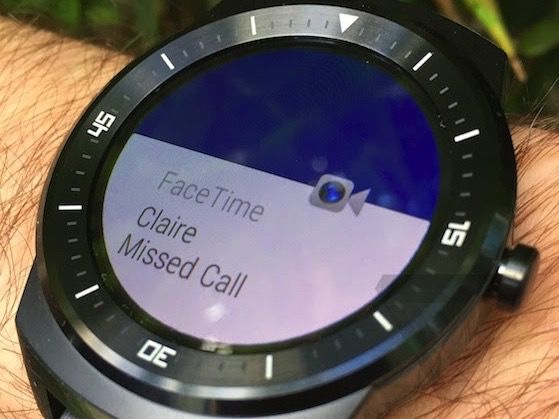 An LG G Watch R with FaceTime notification from iOS, via The Verge
In its current state of development, Android Wear works along with a companion app on the iPhone and supports basic functions like notifications — as you can see in the photo below. As it does on Android, on the iPhone Android Wear also supports Google Now's ambient information cards, voice search, and other voice actions. It should also support some more advanced features with Google's own iOS apps, like replying to Gmail messages.
If Google finishes the project and submits its Android Wear app to the iOS App Store, it is not clear how Apple will react, given that the app would allow Android Wear devices to compete directly with the Apple Watch. Apple allows Pebble and other competing fitness bands to have apps in the App Store, so it may also permit Google to release an Android Wear app, but at the same time, Apple has aggressively cut down on products similar to the Apple Watch in its retail stores.
It no longer sells fitness devices like the Fitbit, the Jawbone UP, and the Nike Fuelband, and over the years, Apple has also had some altercations with Google. Apple used to feature Google Maps on its iOS devices, but moved on to its own proprietary mapping solution several years ago.
Android Wear watches are built on Google's platform but are available from a number of Apple's competitors, including Samsung and LG. Popular smartwatches like the LG G, the Moto 360, and Samsung's Gear lineup are all Android Wear devices.
There is no word on when Google might release an iOS app capable of officially connecting Android Wear devices to iPhones, but it's possible an announcement could come during the company's I/O developer conference in late May.

Source: MacRumors