Algoriddim's been in the business of turning iPads, iPhones, and Macs info full-fledged DJ systems for both pros and home mixers for years now, and as of today, the company's also ready to bring DJing to the wrist with the new djay app for the Apple Watch.
Built into the latest djay 2 iPhone update, djay for Apple Watch is an app that came to fruition after months of testing and experimenting with ways to bring a functional, ultra portable DJing experience to the wrist. Algoriddim's developers set out to distill the essence of DJing into an Apple Watch-sized package without compromising on function — the goal was to create an app that could be used to DJ an entire party on the wrist.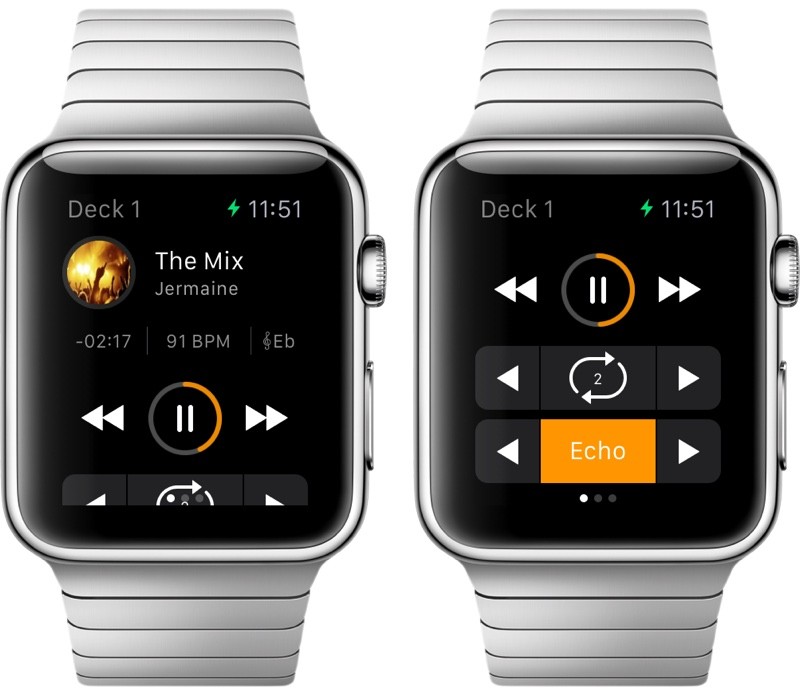 djay for Apple Watch interfaces with the iPhone's iTunes music library, letting DJs select tracks from playlists and mix songs on their wrists. Several songs can be cued up and there are controls for navigating backwards and forwards and looping sections of a song, all in sync with the beat. A Glance view gives a quick look at what's currently playing.
Mixer and transition controls let DJs sync the beat of two songs and introduce crossfading to meld one song into another gradually. There are a set of audio effects that can be added to songs, and an Automix mode can be activated with a Force Touch press to let the app automatically mix songs from an iTunes playlist or Spotify with beat-matched DJ-style transitions. A Spotify Match feature like the one in the djay iPhone app will even find tracks that go well with the song that's currently playing in Automix mode.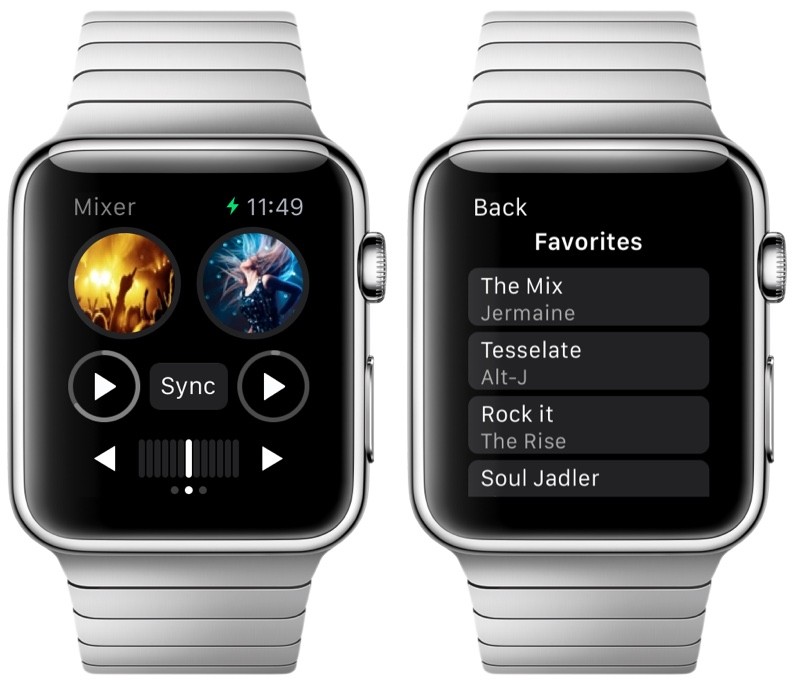 Whether practicing on-the-go, mingling with guests at a party, or rocking out on the dance floor, djay on Apple Watch frees the DJ from the DJ booth and opens the door to completely new ways to mix tracks.

With djay on Apple Watch, users can browse their entire iTunes library plus cue up and mix their favorite songs, all while controlling audio effects and loops for each deck individually – right from their wrist. Or they can simply use Apple Watch to engage djay's popular Automix feature that pulls tracks from Spotify and mixes them automatically.
Along with djay for Apple Watch, Algoriddim is also launching a major update to its djay Pro app for the Mac. Free for all existing users, the 1.1 update adds live video mixing, bringing all of the features of vjay to djay, and it introduces support for several Pioneer CDJ and XDJ systems, popular equipment choices for professional DJs.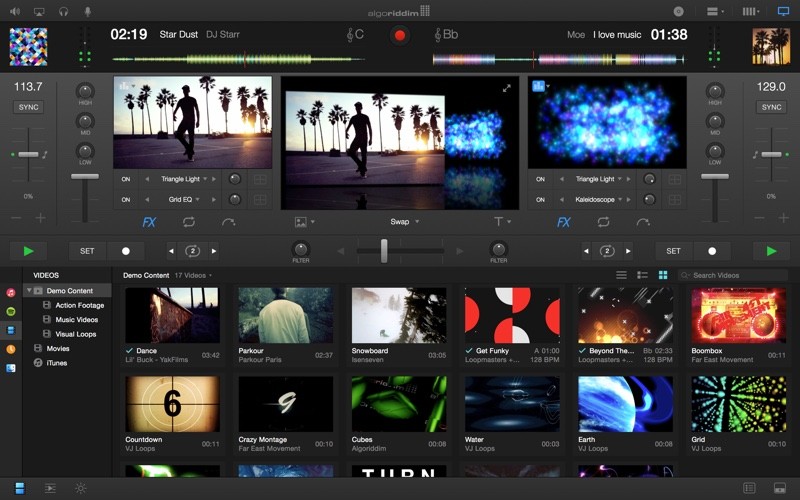 With support for the Pioneer CDJ, djay Pro is the first and only app that lets the CDJ interface directly with Spotify and iTunes playlists. The app's new video mode lets djay Pro users add visualizers to music and mix videos in real-time, with transitions, title and image overlays, and visual effects.
In celebration of the launch the new djay Pro Mac app and the Apple Watch app, Algoriddim is making djay 2 for the iPhone and the iPad free for the next week. That means all users who download djay 2 for iPhone will have access to the djay Apple Watch app beginning April 24.
djay 2 for iPhone can be downloaded from the App Store or free. [Direct Link]
djay 2 for iPad can be downloaded from the App Store for free. [Direct Link]
djay Pro for Mac can be downloaded from the Mac App Store for $49.99. [Direct Link]

Source: MacRumors