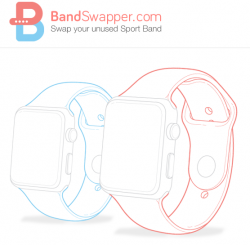 As the Apple Watch pre-orders continue to build this morning, it's worth noting a few third-party websites who plan to provide services to early adopters of Apple's new wearable device. One of those sites is BandSwapper, which will let users swap out their unused Apple Watch Sport Band for another size and color.
As was discovered closely following Apple's big "Spring Forward" event last month, every model of the Apple Watch that ships with a Sport Band – meaning both aluminum and stainless steel – comes in two sizes for both the 38mm and 42mm casing sizes. The smaller 38mm case covers 130-200mm wrists in both S/M and M/L bands, while the larger 42mm option ranges between 140-210mm wrists in S/M and M/L bands.
BandSwapper plans to fix the extraneous multi-band option by allowing Sport Band users to swap the band they won't use, for a completely different size and color band that they will. As the website claims on its currently sparse homepage, "It takes 5 minutes and costs only $6."
Here's How it Works:
1. Tell us which band you have and which one you want.
2. Send us your unused band with one of our pre-paid shipping labels.
3. We'll send you back a band in the size and color you want.
Currently, the most users can do to prepare for band swapping is provide the website an email address to remind them when the BandSwapper storefront will be live, which will coincide with the Apple Watch's official launch on April 24.
As expected, a lot of Apple Watch-related news continues to circulate today as pre-order estimates begin slipping rapidly and more news on the Watch's warranty surfaces.

Source: MacRumors