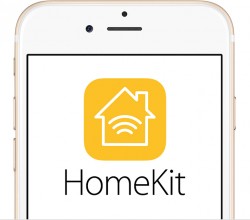 While it has been more than a year since Apple launched HomeKit, a software framework for communicating with and controlling light bulbs, thermostats, door locks and other connected accessories in the home, only five HomeKit-approved products have been released to date: the Ecobee3, Elgato Eve, iHome iSP5 SmartPlug, Insteon Hub and Lutron Caseta Wireless Lighting Starter Kit.
The slow rollout of HomeKit-enabled hardware accessories is not because of a lack of interest in the platform, but rather Apple's strict security protocols for Bluetooth LE (low energy) devices, according to Forbes. In particular, the strong level of encryption required to use the HomeKit protocol through Bluetooth LE has resulted in lag times that essentially render some accessories useless.
For example, a smartlock that makes its user wait 40 seconds before it opens is clearly inferior to a traditional lock. One of HomeKit's selling point is that it provides a more reliable user experience, so these kinds of lag times will need to be sorted out before Apple can become a major platform for the smart home.

Elgato Eve smart home sensors for doors, windows and energy consumption
Chipmakers such as Broadcom and Marvell have reportedly been working to improve their Bluetooth LE chips to more effectively handle Apple's level of encryption, an important step if the company wants to become a major player in the smart home. In the meantime, developers have either been focusing on Wi-Fi-based HomeKit hardware or working on temporary solutions to the problem.
For the time being, Elgato has found a workaround for these problems with Bluetooth LE. It's tweaked the firmware and added additional on-chip memory to handle the heavy-duty encryption. Elgato was not anticipating having to go make these modifications initially, and now the company hopes to make a side business selling its tweaks to other device makers wanting to build HomeKit devices with Bluetooth LE.
HomeKit delays have also been attributed to "sparse and shifting" documentation and Apple's tedious certification process for its "Made for iPhone/iPad/iPod" (MFi) program. HomeKit accessory makers are required to send multiple prototypes of their products to Apple for testing, and the process can be lengthy until Apple is satisfied.
Apple's attention to detail and focus on security should prove worthwhile for customers, however, and the company has the size and reputation to enforce manufacturers to adopt those high standards. "This is one of those things that Apple does," a source working on a HomeKit device told Forbes. "They force an issue. It's like that here. Regular Bluetooth has an issue — it's not secure."

Source: MacRumors