IHS iSuppli often tears down devices to estimate component costs, and today, the research firm released its report on the Apple Watch, suggesting it has the lowest hardware costs compared to retail price of any Apple product IHS has researched.
The 38mm Apple Watch Sport dissected by IHS was estimated to cost $81.20 when broken down by component. In IHS' estimation, the most expensive component in the Apple Watch is the display (including OLED and Ion-X cover glass), priced at $20.50, followed by the processor on the S1 chip, priced at $10.20. In addition to component costs, IHS adds an estimated $2.50 for manufacturing costs, bringing its total estimate for the Apple Watch's raw cost to $83.70. IHS did not give similar cost breakdowns for the stainless steel or gold Apple Watches, both of which have sapphire cover displays and different casing materials.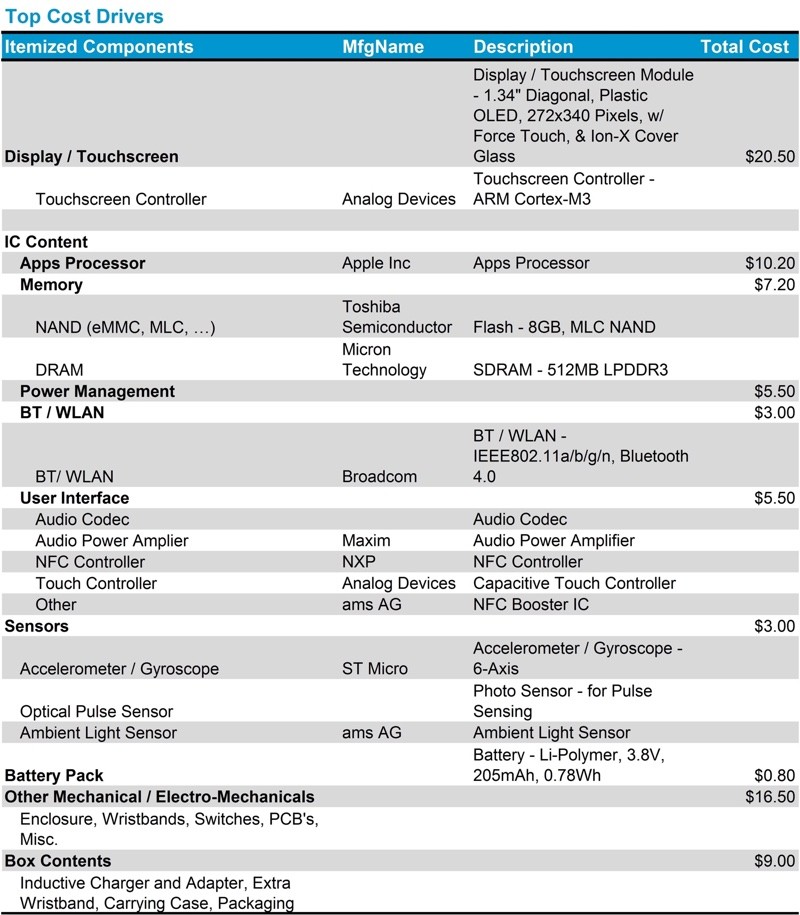 At $83.70, IHS says the hardware costs of the Apple Watch are "only about 24 percent" of the manufacturer's suggested retail price of $349, while other Apple product component costs have ranged from 29 to 98 percent, giving the Apple Watch a higher potential profit margin. During Apple's most recent earnings call, the company announced that Apple Watch profit margins would actually be slimmer than other Apple products, at least during its first quarter of availability.
"It is fairly typical for a first-generation product rollout to have a higher retail price versus hardware cost," said Kevin Keller, senior principal analyst-materials and cost benchmarking services for IHS Technology. "While retail prices always tend to decrease over time, the ratio for the Apple Watch is lower than what we saw for the iPhone 6 Plus and other new Apple products, and could be of great benefit to Apple's bottom line if sales match the interest the Apple Watch has generated."
IHS' component cost estimations come just three days after Apple CEO Tim Cook declared that component cost breakdowns on Apple products are inaccurate. "There are cost breakdowns around our products that are much different than the reality," he said. "I've never seen one that is anywhere close to being accurate."
While these types of cost breakdowns look at the potential expense related to each individual component in a device, they do not take into account other possible expenses related to product creation like research and development, advertising, software, or distribution, making them of little practical use for estimating profit margin.
IHS

Source: MacRumors