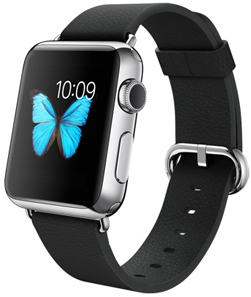 Apple Watch reservations for in-store pickup will be limited to one per customer through Apple's Reserve and Pickup service, MacRumors has learned. Customers in the United States and other launch countries will be required to present a valid government-issued photo ID upon pickup at the Apple Store where they placed their Apple Watch reservation, and only the person named on the reservation will be allowed to pick up the product.
"Inventory is subject to change. Your reservation is valid for pickup only at the Apple Retail Store that you selected. If you do not pick up your selected item(s) by the designated date and time, your reservation will be cancelled and your item(s) will be returned to stock. There is a maximum of 1 reservation per customer. Number of reservations may be limited. Apple reserves the right to refuse, limit or cancel a reservation if Apple determines that a customer has provided misleading or fraudulent information and/or abused, disrupted or attempted to circumvent the reservation system."
Apple's one-per-customer reservation limit has been confirmed to be in place in the United States and United Kingdom, and likely other launch countries, but it's worth noting that the company's plans could change between now and the Apple Watch launch. Apple was originally planning to allow two reservations per customer as recently as March, according to sources, but is now allowing one per customer as stock is expected to be limited. MacRumors can also confirm recent reports claiming the Apple Watch Edition will be offered at select Apple Stores only.
The limit does not apply to online pre-orders that will be shipped to home beginning April 24, although it is possible that Apple will also restrict online orders to one or two Apple Watch models per customer as it has done for Personal Pickup with the iPhone, iPad and other products in the past. Apple will not be allowing walk-in purchases of the Apple Watch without a reservation, according to leaked Apple Store training documents obtained by MacRumors last month.
Apple Watch pre-orders begin April 10, and the wrist-worn device goes on sale April 24 in the United States, Australia, Canada, China, France, Germany, Hong Kong, Japan and United Kingdom. Apple Watch starts at $349 for the entry-level Sport model, while the stainless steel model costs between $549 and $1,099, and the gold edition starts at $10,000. Try-on appointments will be available at Apple Stores and select fashion boutiques beginning April 10.

Source: MacRumors