Apple on Friday updated its online store with instructions on how to purchase the Apple Watch, reiterating that the wrist-worn device can be ordered online or reserved for in-store pickup. The new section appears to confirm that Apple Watch in-store reservations will be available beginning April 10, allowing customers to reserve a specific Apple Watch for pickup at an Apple Store beginning April 24.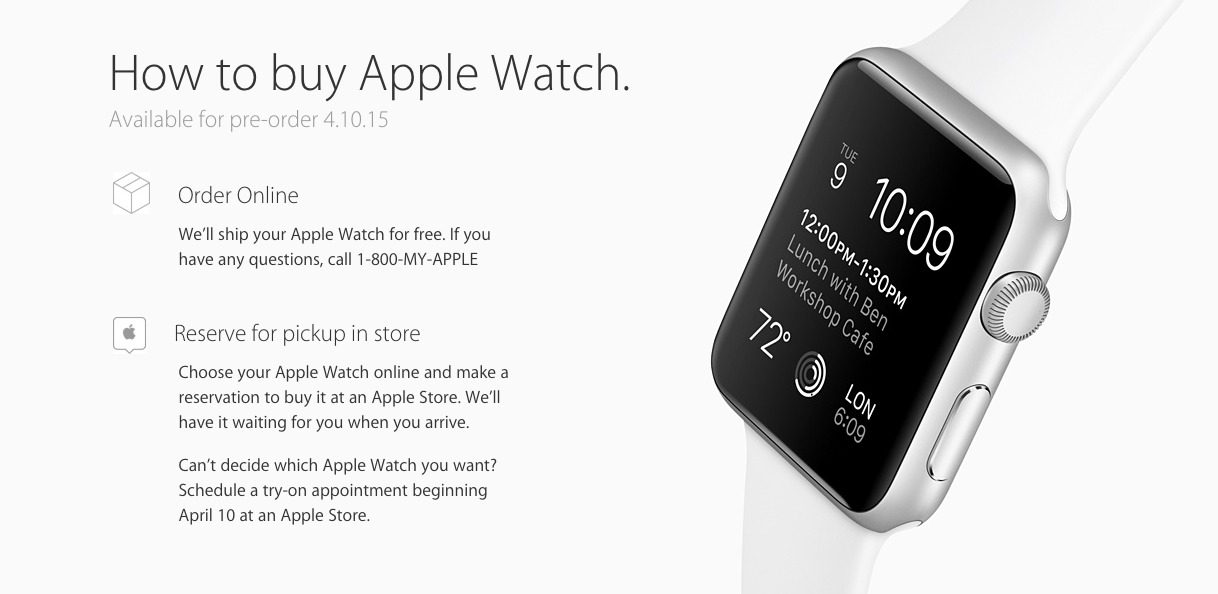 The wording and timing of the new section suggests that Apple Watch in-store reservations will be available April 10, a move that would generate more foot traffic in Apple Stores on Apple Watch launch day. Nevertheless, there remains a slim possibility that reservations will begin on April 24. Apple did not immediately respond to request for comment, although we will update this post if we receive clarification.
Last week, Apple Store training documents obtained by MacRumors indicated that Apple will not allow walk-in purchases for the Apple Watch upon launch, meaning that reserving the wrist-worn device for pickup at a specified date and time will be required initially. Walk-in customers can join the queue for a try-on appointment, after which they can order the Apple Watch online or make a reservation for in-store pickup.
Apple Watch pre-orders kick off at 12:01 AM Pacific on April 10 in the United States, Australia, Canada, China, France, Germany, Hong Kong, Japan and United Kingdom. Apple has added "Guided Tour" videos to its website that outline various functions of the Apple Watch, while we've prepared detailed guides on how to pre-order the Apple Watch and what to expect at a try-on appointment.

Source: LAtest News