While the Apple Watch is marketed as "the most advanced timepiece ever created, a revolutionary new way to connect with others, and a comprehensive health and fitness companion," the wrist-worn device has a number of other use cases that should prove convenient for many day-to-day tasks. The apps and accessories below, for example, will turn the Apple Watch into a remote control for controlling a TV from your wrist.
SamMote for Apple Watch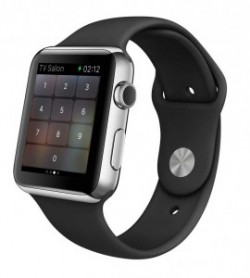 SamMote was recently updated to allow Apple Watch users to control supported Samsung TVs using their wrist. The third-party app, created by developer Eric Degrange and noted by A-Watch.fr, is compatible with most Samsung Smart TVs manufactured between 2011 and 2014 (Series D through Series H models). SamMote is free on the App Store [Direct Link] and also supports iPhone and iPad, so it is worth testing the remote control app works with your own Samsung television.
Roomie Remote for Apple Watch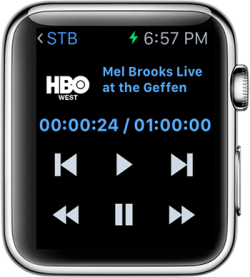 Roomie Remote is a Wi-Fi-based universal remote app for home theater and automation that controls thousands of devices like TVs, cable and satellite boxes, receivers, Blu-ray players, lights and thermostats. The app also allows you to control Apple TV. iPhone and iPad versions of the app have been available since February 2012, and earlier this week the app was updated with Apple Watch support as well. Roomie Remote works with a wide variety of devices, but is $9.99 on the App Store [Direct Link] and may require additional in-app purchases depending on what devices you want to control.
Peel Pronto for Apple Watch
Peel Pronto is a 360-degree infrared remote receiver and blaster that will enable Apple Watch users to control their TV using the smartwatch. The cylindrical-like accessory was created through a partnership between Philips and Peel and can be placed anywhere in your living room to control TVs, set-top boxes, DVD and Blu-ray players, and more. Peel Pronto will also be compatible with iPhone 6, iPhone 6 Plus, iPad Air 2 and other iOS devices that support low-energy Bluetooth.
The device must be paired with the Peel Smart Remote & TV Guide app on the App Store [Direct Link] and gets approximately one year of battery life. Pronto is listed for $49.99 at Best Buy and is also available at NewEgg in the United States, and Staples in Canada. Included in the box is 1 IR extension cable and 4 AA alkaline batteries.

Source: MacRumors