Ahead of the Apple Watch launch tomorrow, Apple has shared a selection of apps that it believes all new Apple Watch owners should download. Provided to Buzzfeed, the list covers a wide range of apps, from those that provide news coverage to those that help people share photos or travel around town.
Today marks the debut of the Apple Watch App Store, which should go live in just a few hours, letting people browse through available apps and download content before getting their watches tomorrow. The Apple Watch App Store will be accessible through the pre-installed Apple Watch app on the iPhone, available to all iOS 8.2 and iOS 8.3 users.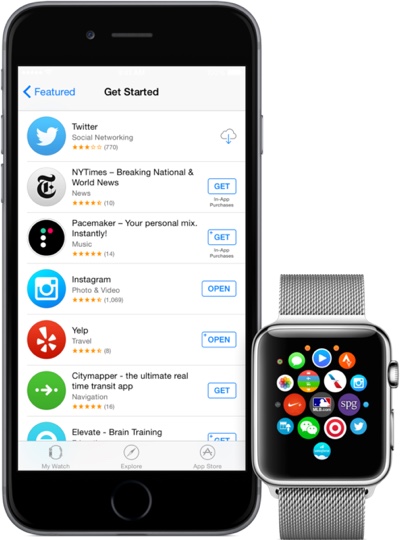 Image courtesy of Buzzfeed
For sharing on social media, Apple recommended both Twitter and Instagram, noting that the latter includes support for emoji comments on the Apple Watch. The New York Times was recommended for news, and Mint was recommended for tracking finances.
Yelp got a mention, as did Target's app, which includes a useful shopping list feature, and Dark Sky was highlighted as the must-have weather app. Citymapper was mentioned as a useful transit app, showing the fastest public transit routes, and Pacemaker's music mixing app was the only music app on the list. Elevate's brain training app was Apple's most unusual pick.
Given the Apple Watch's position as a health and fitness device, Apple also shared several notable fitness and nutrition apps, including Fitstar Yoga for yoga, Strava for runners, and Golfshot for golfers. Apple recommended Lifesum for tracking calories and Centered for meditation.
Several of these apps have been previously highlighted by Apple either during one of its Apple Watch events or on its Apple Watch app website, but several of the above apps are new picks that Apple has not previously shared.
When Apple Watches reach the hands of customers tomorrow, there will be more than 2,000 Apple Watch apps available for the device.

Source: MacRumors