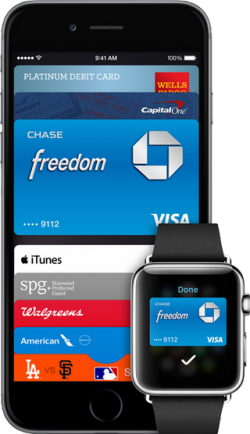 Apple plans to introduce a new rewards program for Apple Pay at WWDC next month, reports The New York Times. In a piece covering upcoming mobile payment upgrades from Apple and Google, the site suggests that Apple will announce details about enhancements to Apple Pay at its Worldwide Developers Conference in June.
Few details are known about the rewards program that Apple plans to implement, but it is said to offer "perks" to customers who make purchases using Apple Pay.
But analysts have noted that a missing piece from Apple Pay was a rewards program to keep users returning to participating merchants. People familiar with Apple Pay said that next month, Apple will announce such a program offering perks to consumers who make purchases with the service, though they declined to reveal details.
There have been rumors about a rewards program for Apple Pay since before Apple Pay launched in October of 2014. In September, a report suggested Apple was working on a pilot program that could see it partnering with multiple third-party retailers to form an Apple Pay loyalty program.
Further rumors suggested the system could tie into iAd, delivering targeted ads to consumers via iBeacons and Bluetooth LE with coupons for free or discounted products, but it is not clear if that's how Apple's finished rewards program will work.
Upcoming Apple Pay competitor CurrentC offers a built-in rewards program that's able to incorporate loyalty cards and discounts for individual merchants, and CurrentC executives tout this as one of the major differentiating features of its system. With its own rewards program, Apple Pay will be better situated to compete with the reward-based features of CurrentC.
It is not known if Apple has plans to introduce additional Apple Pay features at its Worldwide Developers Conference, but it's possible that it could share details on an expansion of the service to additional countries like Canada. Canada is expected to be one of the first countries beyond the United States to gain Apple Pay support.

Source: MacRumors