Since the release of Apple's in-house Maps app as part of iOS 6 back in 2012, Yelp has been the company's sole partner for integrating customer reviews of businesses and other points of interest. In recent days, however, Apple's Maps app has begun including reviews from TripAdvisor and Booking.com on select hotel listings.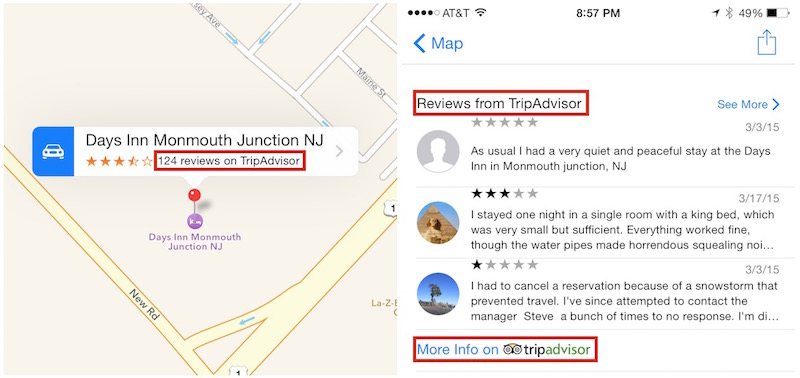 It is currently unclear what the criteria are for determining whether a given hotel listing includes reviews from Yelp, TripAdvisor, or Booking.com, but based on a spot check of several cities, the vast majority of hotel listings in the United States continue to display Yelp reviews. Other types of business listings also continue to use Yelp reviews on Apple Maps.
Internationally, Booking.com in particular seems to be more strongly represented, with brief surveys of London, Paris, and Sydney all showing reviews from that site on a majority of hotel listings viewed.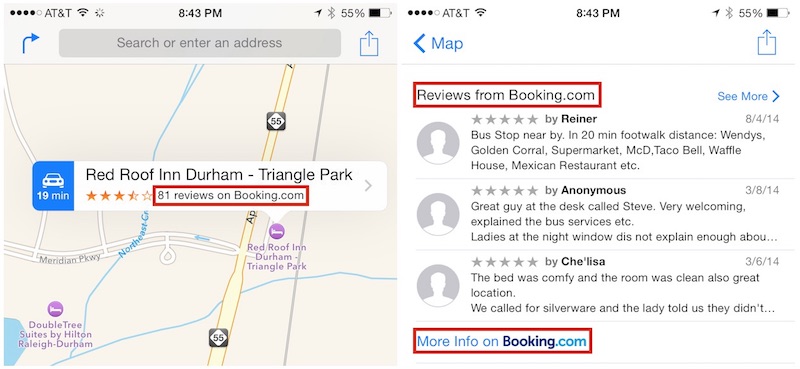 Apple has yet to update its Maps acknowledgements page to note it is now sourcing TripAdvisor and Booking.com, citing only Yelp as a data partner for reviews.
Apple has been working hard to improve Maps since its rough launch in 2012 that saw Tim Cook issue an open letter apologizing to consumers for not meeting their expectations with the new Maps app. The company has since improved its directions and three-dimensional imagery, although other changes such as transit integration planned for iOS 8 last year were pushed back as Apple's mapping efforts have reportedly been hampered by internal politics.
One major improvement that appears to be in the works is street-level imagery similar to Google's Street View and Microsoft's Streetside for Bing Maps. Minivans outfitted with sensor arrays and apparently leased by Apple have been spotted in several areas around the United States, with the behavior of the vehicles on residential streets and in parking lots suggesting they are collecting street-level imagery.
(Thanks, Ram!)

Source: MacRumors