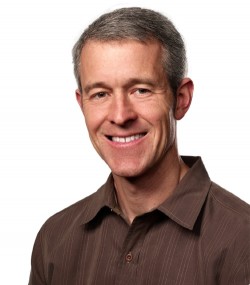 Apple's Senior Vice President of Operations Jeff Williams will speak at the annual Code Conference, held this May 26-28 in Rancho Palos Verdes, California, reports Re/code. Williams joined Apple in 1998 and leads a team responsible for the company's supply chain management, and during the past two years has also overseen development of the Apple Watch and health initiatives such as ResearchKit.
Apple executives Eddy Cue and Craig Federighi spoke at the inaugural Code Conference last year, with Cue discussing how today's TV experience "sucks" and is a complicated problem to solve. Code Conference is a successor to the D: All Things Digital Conference that Steve Jobs and Tim Cook, among other Apple executives, have participated in the past before Dow Jones closed technology website AllThingsD and replaced it with WSJD.
Williams will participate in Code Conference just over one month after the Apple Watch launch, which some customers believe has not gone as smoothly as past product releases. Much of the criticism has been directed towards Apple retail chief Angela Ahrendts, although Williams is directly in charge of Apple Watch development and manages the worldwide supply chain.
Other notable Code Conference speakers announced include GM CEO Mary Barra, Pivotal CEO Paul Maritz, BuzzFeed CEO Jonah Peretti and editor-in-chief Ben Smith, Xiaomi vice president Hugo Barra, Sprint CEO Marcelo Claure, Reddit interim CEO Ellen Pao, GoPro CEO and founder Nick Woodman, Snapchat CEO Evan Spiegel, Airbnb CEO Brian Chesky and Google business lead Omid Kordestani.

Source: MacRumors