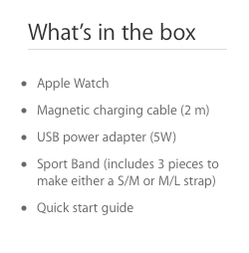 Apple has quietly updated the Apple Online Store to list that the Apple Watch Sport ships with one fluoroelastomer band that includes three pieces to make either a Small/Medium (S/M) or Medium/Large (M/L) strap.
The updated "what's in the box" section confirms a TechCrunch report from last week that, "with very good authority," claimed that the Apple Watch Sport would ship with a three-piece band.
It was initially believed that the Apple Watch Sport would ship with two separate bands for sizing purposes, leading to the creation of services such as BandSwapper that intended to allow customers to swap their unused bands for a different size or color. But Apple's unique three-piece approach to the Sport band eliminates the chance that customers will be able to swap out their unused band.

Source: MacRumors