Apple is cautious with its Apple Watch and doesn't market the device as waterproof, instead giving it a water resistance rating of IPX7. Apple says it's fine to wear the watch in the rain or while washing your hands, but the company doesn't recommend submerging the device.
Many Apple Watch owners have tested Apple's water resistance claims, coming to the conclusion that the Apple Watch is more water resistant than Apple claims. It's survived submersion in a bucket, laps in a pool, lengthy swim tests, and even a 10m dive with no damage.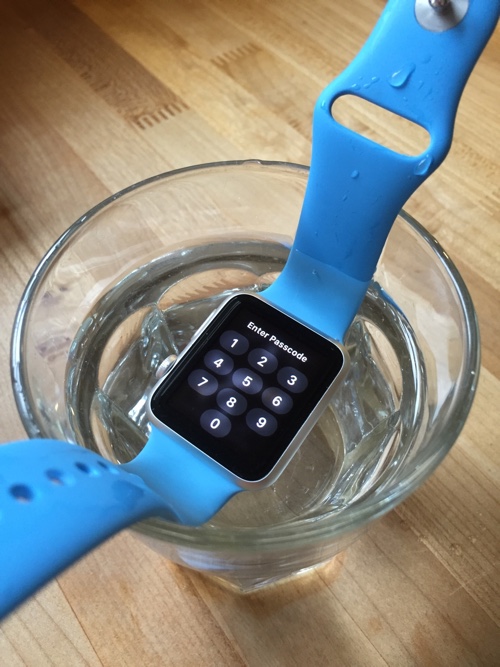 Image via Craig Hockenberry
iOS developer Craig Hockenberry of Iconfactory has followed up each of those tests with a thorough look at the Apple Watch's ability to function in water, which he's compiled into a detailed report that's well worth a read.
Hockenberry wears his Apple Watch while swimming in both pools and the ocean with no discernible damage. Because other reports have already proven the Apple Watch can function in water, Hockenberry goes deeper and looks at how well the watch works while it's in water, how it can be used while swimming, how accurate the data tracking is for water-based activities like swimming, and how to keep the Apple Watch in good condition after using it in salt water and chlorine.
The Apple Watch's capacitive touch screen doesn't work while the device is under water, nor does Force Touch. This is a problem when using the Workout app, as it can't be accessed in the water, and occasionally, water can activate a swipe on the display, swapping from the timer to the calorie view. A workout can only be started before getting into the water and ended after getting out, leading to some inaccuracies.
You have to start the workout before getting in the water and stop after you've gotten a chance to dry off.

For an ocean swim, this screws up your timing: you don't really start swimming until after you get beyond the surf break. If there's heavy surf, this can take several minutes. Workout data is being collected while you're standing and waiting for waves to clear.
Hockenberry postulates that Apple recommends customers don't use the Apple Watch in water "because of the erratic behavior it causes" when the screen is wet, rather than out of concern for how well it holds up in water. As he suggests, it's possible water activity tracking will improve upon the release of WatchOS 2 if native swimming apps are allowed, but it is not clear if Apple will approve swimming apps as they encourage users to wear the Apple Watch in a way that Apple does not support.
Hockenberry's full, detailed report on how the Apple Watch functions in water can be read over at his site, Furbo.org.

Source: MacRumors